The book 'Boundaries after a pathological relationship' by Adele Birch has a load of practical advice on boundaries in relationships. As Trish Khoo who recommended it to me said: "even if you don't think you've had a pathological relationship, this is a good guide to setting and enforcing personal boundaries", and it is. It's full of practical advice and tips on understanding, setting and managing boundaries.
This book applies to work too. Setting boundaries is vital to maintain healthy relationships within your workplace. Thinking about and setting boundaries between yourself, your peers, business partners, your managers and if you're in a leadership position, people who report to you, will help you better cope when one of these boundaries is violated.
When you are a sole specialist on a team, as testers frequently are this becomes even more important. Because unless your team works hard at creating a safe team environment, speaking up as a minority can be difficult and costly. It can be hard to be heard in a retro when your dot has to work against 7 other collective dots focused on other priorities.
Work has other challenges too. We are all familiar with the 'delegator' who happily shoves responsibility onto other's shoulders as if its the most natural place for it to reside (it isn't).Without clear boundaries, many are likely to take on responsibilities that are not actually theirs. There's and old but wonderful book called the One Minute Manager meets Monkey recommended to me by Graham Lea on this topic. Worth a read if you're can't understand why you seem to have too much on your plate.
Without firm boundaries, you can end up carrying the workload, while your team pats themselves on the back at the consistent work flow produced.
The book describes different types of boundaries you might want to consider with examples of what these might be. One exercise is to describe the personalities and traits of your ideal partner. This probably isn't that useful for a work relationship, we don't get to pick and chose who we work with. Instead of thinking of one partner, replace it with company values. Know what you will or will not tolerate in a working relationship.
At some point in your working career some one will intentionally or unintentionally cross one of your boundaries.  Knowing what they are, and what you are prepared to tolerate (and not tolerate) will prevent feelings of violation and powerlessness. Being able to uphold your boundaries can be frightening for many of us, but when you manage it (and I believe you will) it's empowering and liberating.
It doesn't mean that you will be impervious to boundaries being broken. In my experience, some boundaries can only be discovered after being crossed. We are after human, and our boundaries will probably shift as we journey through life. Hopefully, though with a little bit of practise, you will find it easier to maintain healthy boundaries and move to building solid team relationships.
I'll leave you with a mindmap of the lessons I learned from this book and applied to the work context.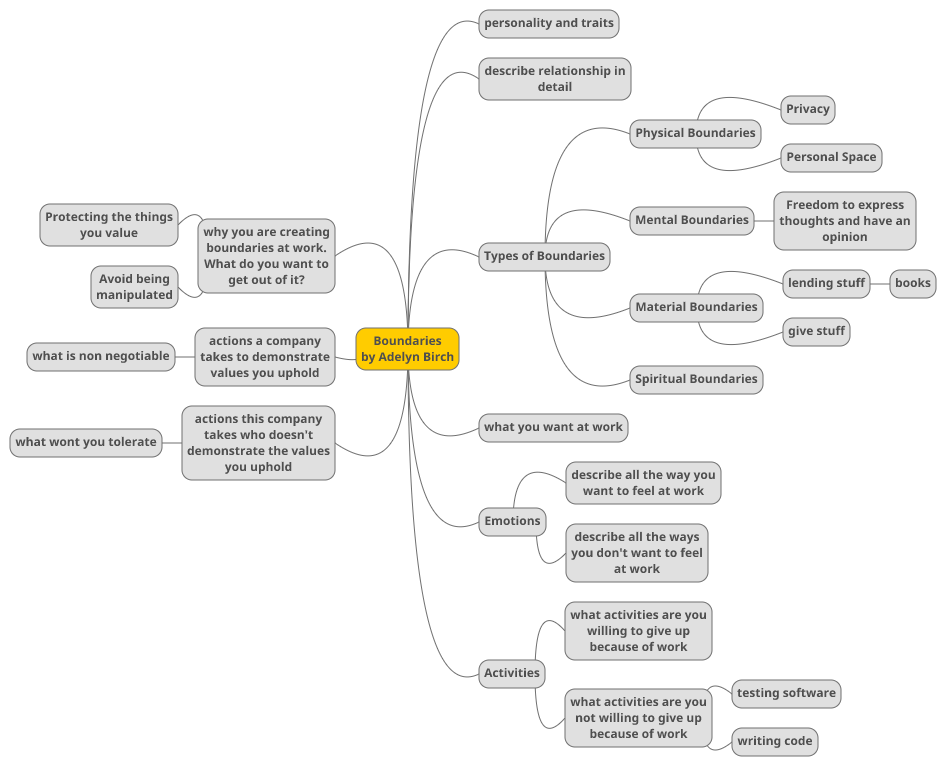 Proviso: I'm not an expert in this field by any means. I've written this post based on my own work experiences and the advice may not relate in any way to your context.